Azul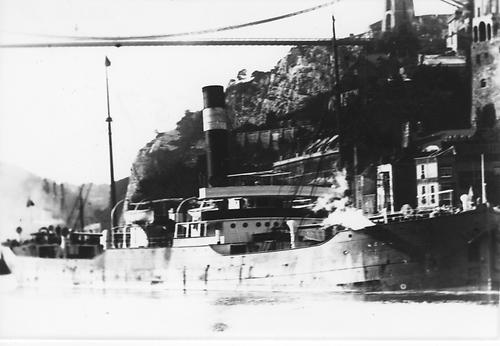 Names and owners
| | | | |
| --- | --- | --- | --- |
| 1898 | Azul | A. Holland & Co. | |
Fate
On the 6th of February, 1917, off the west coast of Ireland, the West Hartlepool-owned steamship Azul was torpedoed and sunk by the German submarine U-54 (Volkhard von Bothmer). Her crew were able to take to their lifeboats, one of which, holding the Captain and 11 crewmen, was later picked up by the Liverpool steamer Eudora. The second boat containing a further 11 crew members was never found. Master D.D. Lacey. The names of those lost are:
Andersen, S.P., 24, Fireman/Trimmer, Born Denmark.
Eriksen, Edward, 22, Fireman, Born Norway.
Gale, William Henry, 55, Donkeyman, son of the late Mr. and Mr. James Gale; husband of Elizabeth Ann Gale (nee Francis), of Bishopsgate Parade, Cardiff Rd., Newport, Mon. Born Newport, Mon.
Goode, William Bramwell, 27, Able Seaman, son of John Amos and Esther Clara Goode (nee La Grand). Born Jersey.
Hedin, Ernst Gustaf, 24, Fireman/Trimmer, son of A. G. Hedin, of Tagabacken 8, Helsingborg, Sweden. Born Sweden.
Husband, William, 39, Able Seaman, Born Southampton.
Lloyd, John Henry, 22, Fourth Engineer Officer, son of Denis and Anne Lloyd (nee James), of Ffosyteilwr, Cardiganshire. Born Ffosyteilwr, Cardiganshire.
Pring, William, 22, Mess Room Steward, son of Robert Charles and Emily Pring, Of 19, Dolphin Street, Newport, Mon.
Tobin, Albert Thomas, 17, Ordinary Seaman, son of Thomas and Elizabeth Jane Tobin, of 11, Corelli St., Newport, Mon. Born Barry, Glam.
Travers, Jonas, 27, Second Engineer, son of Robert and Maria Travers; husband of Mary Ann Travers (nee Perchard), of 39, Alexandra Rd., Newport, Mon. Born Newport, Mon.
Williams, Alfred William James, 18, Ordinary Seaman, son of Harriet Williams, of I07, Raglan St., Newport, Mon., and the late Henry Williams.
Related items :