Ribston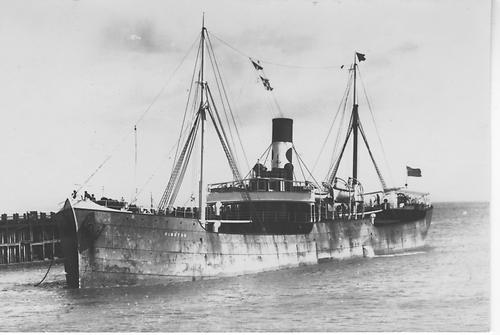 Names and owners
| | | | |
| --- | --- | --- | --- |
| 1894 | Ribston | London & Northern Steamship Co. Ltd. | |
| 1915 | Ribston | London Gate S.S. Co. Ltd. | |
| 1915 | Ribston | Capricornus S.S. Co. Ltd. | |
Fate
The West Hartlepool-built steamship Ribston was torpedoed and sunk by the German submarine U-45 (Erich Sittenfield), off south-west Ireland on July 16th, 1917. The ship was on a voyage from Melilla, Spain, to Glasgow with a cargo of iron ore. Master J. Tweedie.
Twenty five crew were lost including one from the Hartlepools:
Thomas Glennie.
The other crewmen who lost their lives were:
Atkinson, William Henry; Bartlett, William Jenkin; Burrows, Robert; Calson, B.; Coutsoudis, Zanis Constantine; Crowden, Charles; Durbin, George Mansel; Evans, Benjamin Charles; Harrington, William Henry; Jamieson, William Hunter; Kays, Joseph; Kemp, Francis; Lixton, George Henry; MacPherson, James; MacRae, David Paterson; Madden, George; Stewart, John; Tatton, James; Taylor, George Henry; Thomas, William; Tweedie, J.; Vincent, John Owen Charles; White, John Henry; Wilson, Charles Stanley.
Owned by the London and Northern Steam Ship Co. Ltd. Managers: Pyman Bros.
Sold to the London Gate S.S. Co. Ltd. (H.W. Dillon & Sons, Managers), in 1915 for £25,000.
Sold to the Capricornus S.S. Co. Ltd. (Moller & Co., Managers), in November 1915 for £40,000.
Related items :