Manchuria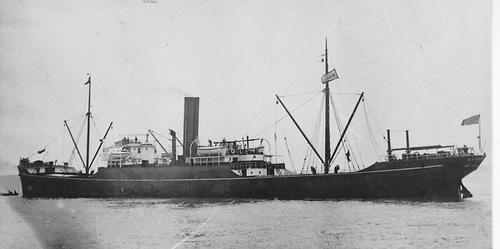 Names and owners
| | | | |
| --- | --- | --- | --- |
| 1905 | Manchuria | Manchuria Steamship Co. Ltd. | |
Fate
The defensively-armed British steamship Manchuria was torpedoed and sunk by the German submarine U-53 (Hans Rose), 60 miles north-west of Ushant on October 17th, 1917. The ship was on a voyage from La Goulette to West Hartlepool with a cargo of iron ore. Master 1915-17- Hector Bennett.
Twenty five crewmen were lost including eleven from the Hartlepools:
Joseph Shepherd Andrews
William Bell
Carl Christian Christensen
John Garland
Albert Hanson
William Liddle
Tom Prin Mack
Charles Osbert Mordaunt
Daniel Nichol
Arthur Ernest Rumsey
William Stoddart
The other crewmen lost were:
Anderson, James; Anderson, John; Bennett, Hector; Boyce, William Henry; Brown, Henry Laverick; Collins, Percy; Flintoff, John Scott; Goodwin, Charles; Harries, Edgar; Kennon, J.; Richards, Michael; Ridley, Harry; Steadman, Joseph; Wheeler, Leslie Victor.
Related items :